Introduction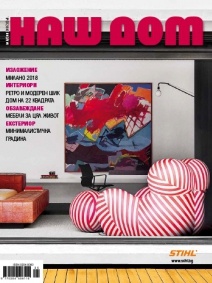 Once again, the most prestigious Bulgarian magazine for design and architecture Nash Dom (Our Home) publishes an article about the excellent work of the Bulgarian team of professionals at Braerise UK.
Colourful Mood
Light and open space in a London house, transformed by a Bulgarian team.
Design: Radoslav Savov
Photos: Nikolay Bogdev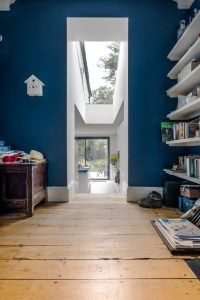 This extremely picturesque house in Central London is with big square footage in its original size, and the loft space has been expanded through the years. But the owners need more space, in order to have separate more spacious and modern kitchen with wide dining area. That's why Radoslav Savov and his team are given the task to make rear expansion of the ground floor and modernize the existing interior. The job is done in three stages for three whole years. Many built-in pieces of furniture have been manufactured and installed. The typically British original floor has been preserved, and the big wooden sills and cornices have been restored carefully. The chosen fresh accentuating colours lend pleasantly cheerful mood even in the gloomiest London days.
The project includes expansion of the kitchen and the living room. The wide aluminium door and the skylight ceiling flood the whole internal space with a lot of light.
The extension is made by removing one of the side walls of the house and absorbing the unusable side garden.
The lampions in the living room, reminiscent of beautiful soap bubbles, are in harmony with the attractive accessories.
The kitchen and the kitchen island are custom made.
The built-in pieces of furniture are made of hand-painted MDF and have many drawers to store everything that the family needs. The floor is covered with linoleum, which reminds that this material should not be underestimated and, while forgotten, it is perfect for this type of rooms. The yellow colour is a bright accent which brings great mood.
The typically British original floor has been preserved, and the big wooden sills and cornices have been restored carefully. This photo presents the perfect architectural solution that brings a lot of light in this area.
4. Two interesting bathrooms full of colours are made. One of the accents of the house is the yellow bathroom, called The Yellow Duck – the kid's favourite. The yellow colour is used everywhere, even for the gaps, but it is not intrusive. An interesting detail is that the floor and the bath panel are made of high quality linoleum.
5. The much desired 3D bathroom on the second floor of the house is with tiles with three-dimensional design. The green glass of the shower cabin is a bold move, as the colour is in harmony with the other elements of the bathroom.